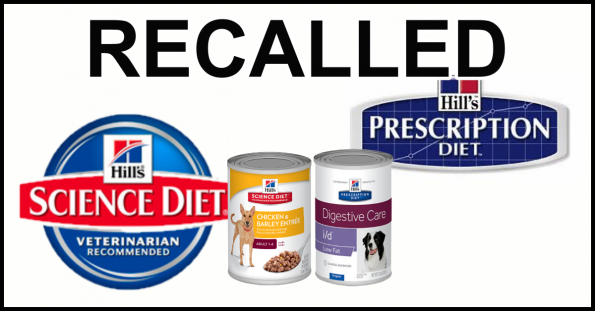 Dear valued clients,
HILL'S SCIENCE DIET brand pet food has recently issued a RECALL on select CANINE CANNED over the counter and prescription veterinary diets. All dry dog food products and all FELINE PRODUCTS ARE NOT AFFECTED by this recall.
Unfortunately, we have learned today that some of the canned canine prescription diet products (including i/d canned diets) are included in this recall. We are aware that some of our clients have purchased these products for their pets through us.
At this time we are currently investigating when these affected diets may have been dispensed by our hospital. As soon as this information is provided by Hill's we will be able to determine which patient's may have received tainted diets. Although we are not certain, we believe such tainted diets were likely dispensed between November 1st 2018 and January 31st 2019.
In the meantime, if you have purchased ANY of the Hill's canine canned food on the list of recalled foods provided, please contact our office at 914-273-7878.
Please see the list below of all currently know affected over the counter and prescription diets. If you have any remaining product with the appropriate lot numbers on the list below, please return it to us immediately.
Sincerely,
Dr. Rick Germano
Armonk Veterinary
Hill's® Prescription Diet® c/d® Multicare Canine Chicken & Vegetable Stew, 12.5oz:- SKU #3384. Lot codes 102020T10, 102020T25
Hill's® Prescription Diet® i/d® Canine Chicken & Vegetable Stew, 12.5oz:- SKU #3389. Lot codes 102020T04, 102020T10, 102020T19
Hill's® Prescription Diet® i/d® Canine Chicken & Vegetable Stew, 5.5oz:- SKU #3390, Lot codes 102020T11, 112020T23, 122020T07
Hill's® Prescription Diet® z/d® Canine, 5.5oz:- SKU #5403, Lot codes 102020T17, 112020T22
Hill's® Prescription Diet® g/d® Canine, 13oz:- SKU #7006, Lot code 112020T19
Hill's® Prescription Diet® i/d® Canine, 13oz:- SKU #7008, Lot codes 092020T30, 102020T07, 102020T11, 112020T22
Hill's® Prescription Diet® j/d® Canine, 13oz:- SKU #7009, Lot code 112020T20
Hill's® Prescription Diet® k/d® Canine, 13oz:- SKU #7010, Lot code 102020T10
Hill's® Prescription Diet® w/d® Canine, 13oz:- SKU #7017, Lot codes 092020T30, 102020T11
Hill's® Prescription Diet® z/d® Canine, 13oz:- SKU #7018, Lot codes 102020T04, 112020T22
Hill's® Prescription Diet® Metabolic + Mobility Canine Vegetable & Tuna Stew, 12.5oz:- SKU #10086, Lot codes 102020T05, 102020T26
Hill's® Prescription Diet® w/d® Canine Vegetable & Chicken Stew, 12.5oz:- SKU #10129, Lot codes 102020T04, 102020T21
Hill's® Prescription Diet® i/d® Low Fat Canine Rice, Vegetable & Chicken Stew, 12.5oz:- SKU #10423, Lot codes 102020T17, 102020T19, 112020T04
Hill's® Prescription Diet® Derm Defense® Canine Chicken & Vegetable Stew, 12.5oz:- SKU #10509, Lot code 102020T05
Hill's® Science Diet® Adult 7+ Small & Toy Breed Chicken & Barley Entrée Dog Food, 5.8oz:- SKU #4969, Lot code 102020T18
Hill's® Science Diet® Puppy Chicken & Barley Entrée, 13oz:- SKU #7036; Lot code 102020T12
Hill's® Science Diet® Adult Chicken & Barley Entrée Dog Food, 13oz:- SKU #7037, Lot codes 102020T13, 112020T23
Hill's® Science Diet® Adult Turkey & Barley Dog Food, 13oz:- SKU #7038, Lot code 102020T06
Hill's® Science Diet® Adult Chicken & Beef Entrée Dog Food, 13oz:- SKU #7040, Lot code 102020T13
Hill's® Science Diet® Adult Light with Liver Dog Food, 13oz:- SKU #7048, Lot code 112020T19
Hill's® Science Diet® Adult 7+ Chicken & Barley Entrée Dog Food, 13oz:- SKU #7055, Lot codes 092020T31, 102020T13
*Hill's® Science Diet® Adult 7+ Beef & Barley Entrée Dog Food, 13oz:- SKU #7056, Lot codes 092020T31, 112020T20, 112020T24
Hill's® Science Diet® Adult 7+ Turkey & Barley Entrée, 13oz:- SKU #7057, Lot code 112020T19
Hill's® Science Diet® Adult 7+ Healthy Cuisine Braised Beef, Carrots & Peas Stew dog food, 12.5oz:- SKU #10452, Lot codes 102020T14, 102020T21